Main content starts here, tab to start navigating
This menu is available for dine in or take out. Daily specials and prices are subject to change due to changing market conditions. Reservations recommended for parties larger than 4.
Wednesday - Friday Lunch from 11:30am - 2pm Dinner 5pm-9pm
Saturday 5pm - 9pm
Sunday 12-8pm
Special Events: you can make your reservations for both by calling us during business hours, using our google form (under special events tab from homepage), or by asking your server.
First Friday of the Month: Paella - shellfish, shrimp, chicken and lukinka 26.95 per plate - DINNER HOURS ONLY
Last Saturday of the Month: Boarder Table Lunch 12:30pm - Pork Chops and Omelette 23.00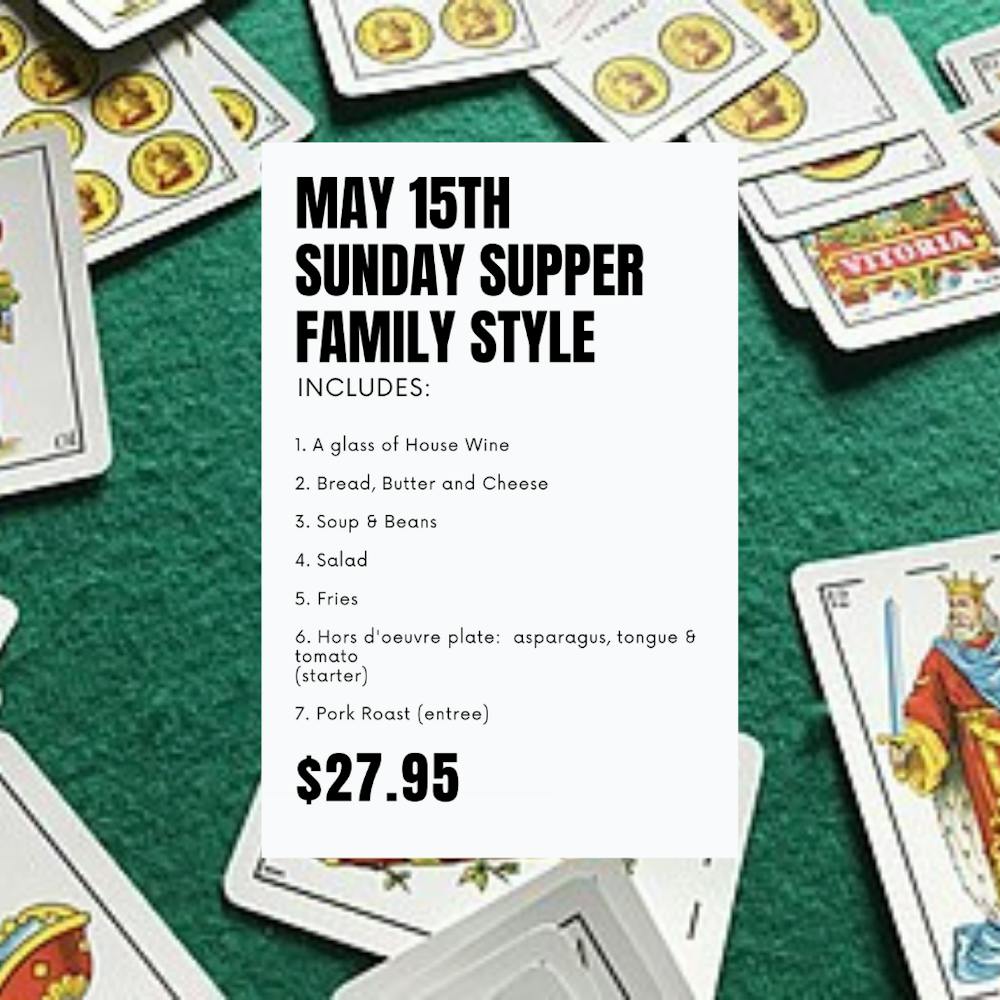 Daily Specials
Subject to availability. Plates come with potato & vegetable du jour. Make it a meal for $6.00. Meals come with soup du jour, beans, salad, and bread & butter.
Soup du Jour

Wednesday | Potato Leek

Thursday | French Onion

Friday | Vegetable

Saturday | Split Pea

Sunday | Fideo

Pork Roast

Delicious Pork Roast served with the Vegetable and Potato du jour 17.95
Starters
Poutine

French Fries, Jack Cheese and Monique's Mushroom Gravy 10.95 | With Oxtail Stew Gravy (upon availability) 12.95

Basco Poppers

Bacon Wrapped Jalapenos stuffed with Cream Cheese 10.95

Shrimp Cocktail

8 Jumbo Shrimp with Cocktail Sauce 10.95

Garlic Lime Shrimp Kabobs

4 Jumbo Shrimp on a Kabob in a delicious Garlic and Lime sauce 8.95 | 2 skewers 16.95

Shrimp Scampi

Four jumbo shrimp sauteed in fresh garlic, butter and seasonings. Great as an add on to our steaks. 8.95

Chicken Wings

Choice of Buffalo or Garlic Parmesan Sauce 10.95

Calamari Strips

Strips of Calamari sautéed in butter, garlic and spices 14.95

Escargots

1/2 dozen escargots baked in a garlic butter sauce. Served with bread 14.95

Salami & Cheese Plate

Slices of Salami and Jack Cheese served with Bread & Butter 9.95
Entrees - Make it a Meal for $6.00 (soup, salad, bread&butter)
Meals come with soup du jour, salad, potato and vegetable du jour, bread & butter. Plates come with potato & vegetable du jour.
Poulet Basquaise

Shelton's Free Range 1/2 Chicken Roasted in its Natural Juices topped with a Piperade style Basquaise Sauce 12.95

Roasted Chicken

Shelton's Free Range 1/2 Chicken Roasted in its Natural Juices 11.95 | add Basquaise Sauce $1.00

Entrecôte - Rib-eye Steak 10oz.

Certified Angus Beef Prime Rib Eye steak grilled to your choice and topped with your choice of Monique's Mushroom Sauce or Garlic Butter 10oz 35.95 | 14oz 40.95

Flat Iron Steak

8oz. Flat Iron Steak cooked to your order and topped with fresh garlic and butter 28.95

Oxtail Stew Meal

16oz of our homemade, melt in your mouth tender, Oxtail Stew served with French Fries, soup, salad and bread 26.95

Pork Chops

Two lightly breaded chops grilled to perfection 17.95

Rack of Lamb

Mouthwatering roasted Rack of Lamb. Cooked to your preferred temperature and garnished with fresh garlic and parsley 42.95

Lamb Chops

Three local lamb chops grilled to perfection and topped with fresh garlic 35.95

Lamb Roast

Leg of Lamb slowly oven roasted in its natural juices 18.95

Baked Salmon

Oven Baked Salmon served with a meunière sauce 21.95

Calamari Steak

Lightly breaded and grilled Calamari Steak topped with Piperade style Basque Sauce (tomato and pepper sauce) or Meunière sauce 16.95

Roughy Filet

Pan Fried or Baked Fish Filet served with a Meunière Sauce 17.95

Breaded Shrimp

Six breaded shrimp served with a choice of French Fries or Buttered Noodles 14.95

Chicken Parmesan

Grilled Chicken Breast topped with a Tomato, Bell Pepper and Onion Sauce with melted Jack Cheese 17.95

Veal Cutlet

Tender Veal, lightly breaded 20.95

Veal Parmesan

Lightly Breaded Veal Cutlet topped with a Basquaise Sauce and melted Jack cheese 24.95

Veal Taylor's Style

Named for Chef Joe's daughter Taylor, this Veal Cutlet is smothered in Monique's Mushroom Sauce and melted cheese 24.95

Fettuccine Alfredo

Freshly prepared Alfredo Sauce on tender Fettuccine noodles. Served with the Vegetable du Jour (no potato) 14.95 add chicken 4.95 | add shrimp 5.95
a la Carte
Oxtail Stew a la carte

Our homemade, melt in your mouth oxtail stew 20.95

Amatxi Special (The Set Up)

Perfect as a lighter meal option. Includes: Soup du Jour and beans, Salad (choice of dressing), Tongue and Tomatoes, Spaghetti, and Bread & Butter 15.95

Basque Breakfast

2 fried eggs, 2 lukinka, ham, fries, bread and cheese 16.95 | kids 10.95

Lukinka & Noodles

Our homemade Basque Sausage is a blend of pork, garlic and spices and is simply delicious. Two links served on a bed of buttered noodles 13.95

Basco Bowl

A gem from one of our favorite spots in St. Jean Pied-de-Port....Basquaise sauce with French Fries topped with 2 Lukinka - Yum! 10.95

Basco Combo (Tongue and Tomato Plate)

Our famous marinated Beef Tongue and Tomatoes, Monterey Jack cheese, Bread and Butter 10.95

Chicken Tenders

Breaded Chicken Breast strips served with a side of our homemade Ranch dressing and French Fries 10.95

Soup du Jour, Beans, Salad & Bread

14.95

Soup du Jour, Beans & Bread

9.95

Chef's Salad

Protein option is Grilled Chicken or Tuna Salad. Comes with bread and butter 13.95

Spaghetti

Choice of homemade meat sauce or butter and garlic. Comes with bread and butter 9.95 | add Garlic Bread $2.95

French Onion Soup au Gratin

A generous crock of our French Onion soup with croutons and finished with broiled melted cheese 9.95

Soup du Jour

16 oz. 4.95 | 32 oz. 8.95

Side Salad

Green salad with choice of dressing, slice of Monterey Jack cheese, and Bread & Butter 4.95

Side Order of Tongue & Tomato

A single serving of our famous marinated Beef Tongue and Tomato slices topped with our homemade vinaigrette and fresh garlic and parsley 3.95 | a family size platter of 10 slices of each 19.95

Wedge of Blue Cheese

3.95

Basco Beans

16 ounces of our slow cooked delicious beans 5.95

Loaf of Bread

7.95

Half Loaf of Bread

3.95
Sandwiches and Burgers
Comes with choice of French Fries, Side Salad, Beans or Cup of Soup du Jour.
Basque Ham Sandwich

Home cured Ham served on choice of French roll or grilled sourdough bread 12.95

Lukinka Sandwich

Homemade Basque Sausage served on a French roll with a side of Piperade Basque Sauce 12.95

French Dip (Beef or Lamb)

Sliced Roast Beef or Lamb Roast on a toasted French Roll. Includes a side of Monique's Mushroom Sauce for Beef or Lamb au Jus 14.95

Rib-eye Steak Sandwich

8 oz. grilled Certified Angus Beef Choice Ribeye Steak on grilled sourdough 22.95

Basco Burger

1/3 lb Angus Beef patty. Comes with 1000 island spread, lettuce, tomato and onion 10.95 | add cheese 1.00

Impossible™ Burger

Plant based Impossible™ burger with all the fixins....served with fries 10.95

Tuna Melt

White Albacore Tuna Salad and Jack Cheese on grilled sourdough 10.95

Grilled Cheese

Melted Monterey Jack on grilled sourdough 8.95

Grilled Chicken Sandwich

Grilled Chicken Breast served on your choice of bread with lettuce, tomato and onion 13.95
Desserts
Add Raspberry of Chocolate Sauce for $0.50
Basque Burnt Cheesecake

Basque Burnt Cheesecake (gazta tarta) has the foundation of a basic cheesecake but lacks a crust and has a burnt topping. Just creamy, smooth cheesecake 6.95

Betta's Butter Rum Cake

It's buttery, rummy and topped with walnuts. Served with local strawberries and ice cream or whipped cream 6.95

Gâteau Basque

Almond Cream in a pâte sablée crust served with a scoop of vanilla ice cream or whipped cream 6.95

Homemade Flan

A classic crème caramel offered as a single portion 5.95 or family style whole portion to share (serves 8 and based on availability) 30.95

Cheesecake Factory Cheesecake

A decadent slice of New York style cheesecake 6.95

Espresso

3.50

Chocolate Cake

Our rich chocolate layer cake is frosted with a decadent chocolate frosting 6.95

Cappuccino

4.50